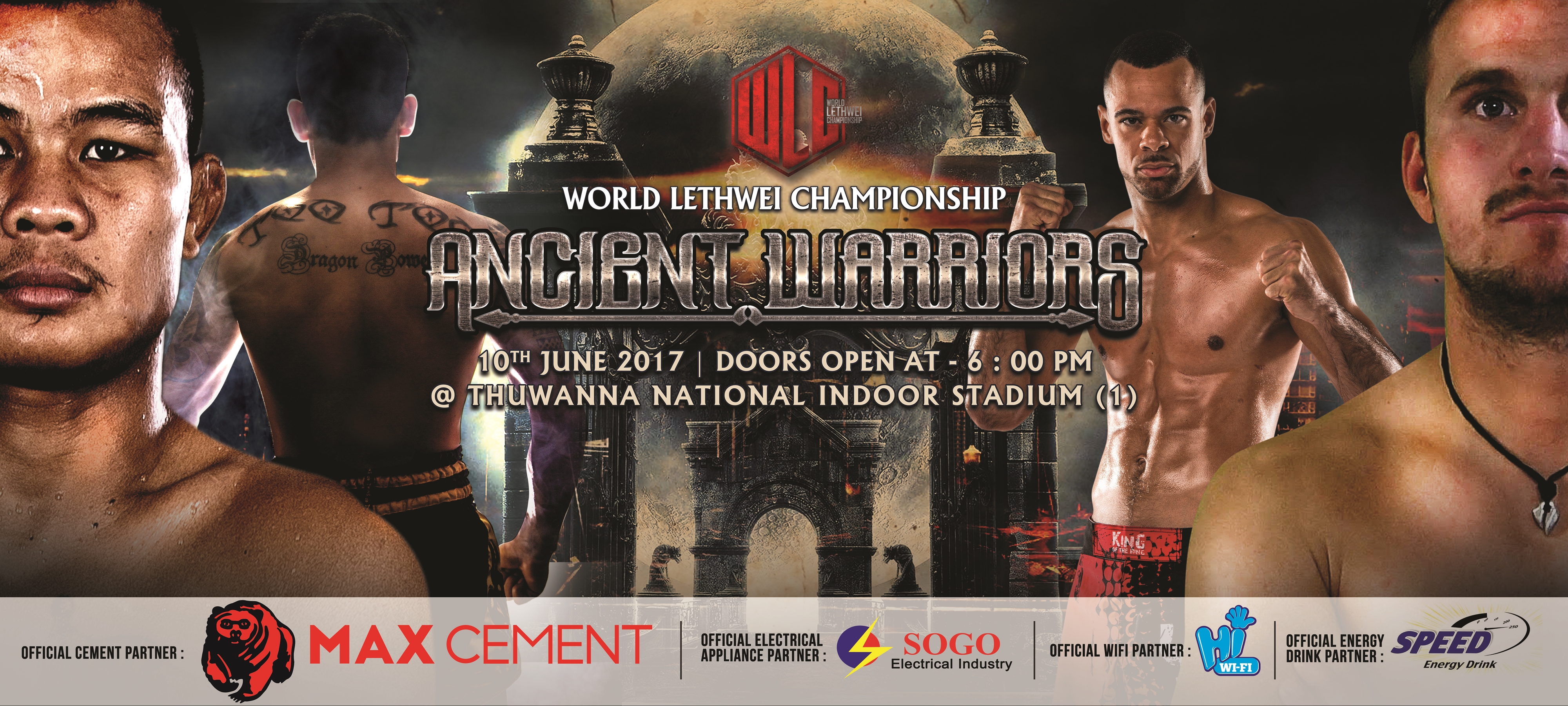 POLAND'S ARTUR SALADIAK AND MYANMAR'S SOE LIN OO TO HEADLINE BIGGEST LETHWEI EVENT IN HISTORY,
WLC2: ANCIENT WARRIORS
May- Yangon, Myanmar- World Lethwei Championship (WLC), the world's largest bareknuckle fighting organisation, have announced the first three fights added to WLC2: ANCIENT WARRIORS. In the main event of the evening, Artur Saladiak (15wins-5losses) from Poland will take on Myanmar's best light middleweight, Soe Lin Oo (50 wins-32 draws- 1 loss). The co-main event will kick off with one of Myanmar's best, Too Too (34wins-13 draws-2losses), taking on James Benal (22wins-9losses) from France.
WLC2: ANCIENT WARRIORS take place on June 10 in 10,000 seat Thuwunna Indoor Stadium in Yangon, Myanmar. The event will be broadcast live on Skynet Sports at 7pm (Yangon Time). Tickets are priced at 10,000 kyats (Free seating), 25,000 kyats (Cat 2), 50,000 kyats (Cat 1) & 200,000 kyats (VIP) and are available now at mmtix.com/worldlethwei. International fans can tune in through Facebook Live at www.facebook.com/worldlethwei.
Chairman of World Lethwei Championship, U Zay Thiha, stated, "WLC2 will be a watershed moment for lethwei as we introduce the Burmese martial art to the world. By combining world-class entertainment like a Live DJ with traditional aspects of lethwei like a Burmese orchestra, we want to create a unique product that can only be experienced through World Lethwei Championship!"
A native of Gryfice, Poland, Artur Saladiak is a 26-year-old Muay Thai practitioner with an all-action style suited for lethwei. He moved to Exeter, England initially to study English but went to train with muay thai champions Sonny Perez and Paul Quick and has since created a reputation for himself as one of the most exciting fighters to watch.
Soe Lin Oo is a very popular Burmese martial artist hailing from Kayin State in the eastern part of Myanmar. One of the state's proudest exports, he is incredibly popular because of his willingness to engage in fanatic brawls and come out on top. In his entire career, He has only experienced losing once in his entire career and will want to keep that streak going in his promotional debut in the main event.
James Benal is a French fighter who has taken on some of the best Muay Thai fighters in the world. He won the Champion of France tournament in 2011 and has competed in the prestigious Lumpinee Stadium in Bangkok, Thailand. Widely considered one of the top welterweights in France, he will now take on his biggest challenge to date when he travels halfway across the globe to face Burmese legend Too Too
Too Too is regarded as one of the best lethwei fighters ever, and is considered as two of the best active fighters, along with his training partner and friend, Tun Tun Min. He has never lost a lethwei fight and his only losses came under a different ruleset outside of Myanmar. Now back to his best, he looks to continue his winning form in the WLC ring after a victory over Australia's Eddie Farrell in WLC1.